About 9 months ago is when sissy boy jason first contacted Me for a humiliation session. his fetish at the time was wearing panties. Things got more interesting rather fast; by the second session, I had loserboy eating cum out of his girlfriends panties, which he found so disgusting, but did it anyway to please Me. As time went on, I had jason dressing up more; he wore a bikini and put on lipstick; another time, he wore a corset,stockings,knee high boots and a wig! Now, he didn't make the prettiest sissy, though he tried. I do give him an "A" for effort for always listening and obeying orders. I would have him fuck empty beer bottles, lick cum off his boots, suck on bananas and lick his cum off of it; yeah he'd whimper in disgust, but jason never let Me down, he's an obedient sissy! To further humiliate jason, I'd have him pose while I took pictures for My personal collection (which will no longer be personal now that I have this blog!) and I'd send him the pics to remind him of what a loser he is! It got to the point where he was asking for those pictures before I even got a chance to send them. jason was then sending Me emails every few days, telling Me how much he loves being humiliated by Me and looks forward to the next time he can be My "loserboy cum eating panty wearing sissy"…. what a fag!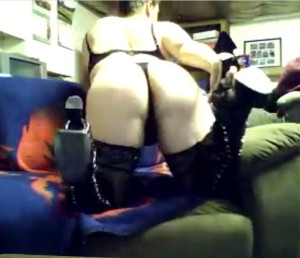 Now, what brings Me to the main reason of this post (the juicy part, lol). I received an email out of the blue from My sissy boy jason. It had been a while since I'd heard from him; with his new busy work schedule, our time difference and mostly, having to sneak around on his girlfriend. So receiving this email was quite a surprise, but not as surprised as what I read.
Here's how it went:
good afternoon goddess…

just messaging you to inform you my gf cuckolded me last night with a massive black cock; 9inch.  She had trouble taking it and could not finish but took the guy for 20min…and fooled around with him for bout hour…it was the hottest thing ever seeing her take that.  She road his cock pretty much the entire time…

she made me wear chasity belt and kissed me after she sucked his cock and also made me eat and clean her up when he left…none of his cum but all hers and the condom taaste…yuk…also made me eat her ass when she was sucking his cock…made me sit in corner and stare at her ass on his cock…

I took some pics of her and recorded her riding …ive cum about 10 times since last night jerking off….on her feet, tits, in my underwear…amazing…

Had to tell someone as I dont think I could tell buddies this one!  Amazing just thought you would like to know 🙂

Sissy boy Jason
It finally happened; My sissy boy was cucked! jason and I would talk about him being cucked by his girlfriend with a BBC many times; it was a fantasy of his to suck a big black cock. he even wrote to Me in an email saying that he wants to be humiliated and suck a black cock on cam for Me! Well, that will be coming true for him soon too!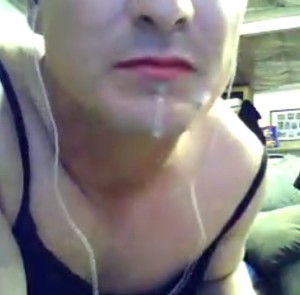 jason and I have spoken a few times after his cuckolding incident, and what came of all this… jason is actually going to blow this monster of a cock on his own; without the gf! See, jason's girlfriend is not turned on by him sucking cock, but does that stop him?, absolutely not; and with Me egging him on, he is planning on sucking the BBC real soon and he promised pics for Me too! I hope they are good enough to blog about!
I couldn't pass up posting a couple of jason displaying his faggot sissy ways!