I created this page to expose my little sissy fags!
If you are a sissy fag craving to be exposed, click on the button below and pay the fee then email your photos and tell me why you want to be outed on my Wall of Shame!
I'm a sissy fag. Please out my faggot ass on your Wall of Shame!
Pay the fee & email your photos!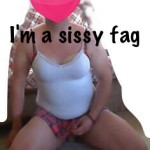 Sissy Chrissy