Following up on sissy brian, this fairy of a sissy has been waiting for Me to out him on My blog… So here ya go you prissy little sissy! Now, what can I say about this pint sized Asian? For one, he (or shall I say she) is definitely confused as to what gender she wants to be. Much too feminine for a boy but she doesn't really make a cute girl either, has the body to pull it off but this little sissy needs some work. I'd say ditch the maid costume and go shopping at Forever21. Pick up some cute dresses and try matching your tights with your outfit next time. And do something with your hair, add a little bow and apply some make-up.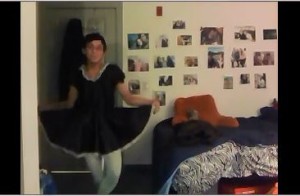 During our last video chat, sissy brian wanted to be recorded for the all of the interwebs to know what a small dicked little sissy she is. Watch this short clip of sissy brian singing and dancing to her own made up "sissy" version of "the teapot song" and her failed attempt at trying to curtsy… I'll be keeping up with sissy brian's progress on making her a much prettier girl.
Here's a fun photo shoot I took of another sissy bitch. This slutty little faggot was hamming up the camera, posing any which way I ordered her slutty faggot ass to pose… High, sniffing on poppers and spreading her horny faggot asshole so wide she'd take a train of big fat cocks up that dirty slut hole! What a fucking nasty whore! she loved every minute of it… SLUT!