It's the return of my "Two Pump Chump!" Do you recall the post I wrote about this big dick loser a few months back? Well, if you haven't read it, I advise you to take a look or if you have, freshen up your memory on this tool bag!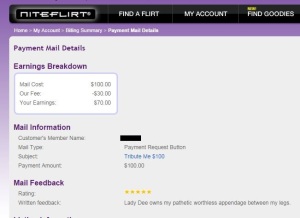 Above is a little motivation he paid me so that I can actually blog about what a loser he is "once again!"
So, from what I had mentioned in my previous post about this tool (I will be referring to him as "J") he sees escorts (quite often actually), it's the only way he is able to hook up with females, pretty sad too cause the guy is not bad looking, has a good job (as he should with all the money he spends on escorts) and well… he has a big dick!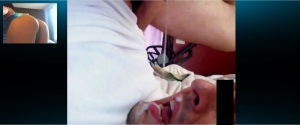 J loves how I flaunt my ass in his face, swaying it around and teasing him about how big and useless his dick is and how he is such a chump for having to pay for sex! The only way this loser cums is in his own face, cause that's how all losers should cum…
IN THEIR OWN FACE!
For the past few months now, J and I have been doing sessions a bit differently then the norm of him just staring at my ass and assuming the fatal position. He's taken me on his escort adventures by calling my NiteFlirt line as he goes up to the escort's hotel room, keeping the call on mute so I can listen in on his lame attempt at trying to last more then 5 minutes with the girl!
Here's just a 24 second sound clip of him cumming while fucking the escort – listen how he says "Oh fuck, OMG!" as he is letting go and mind you, he was only inside her pumping maybe 2 minutes tops!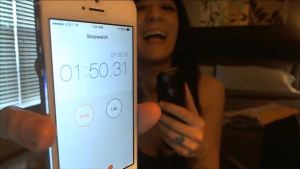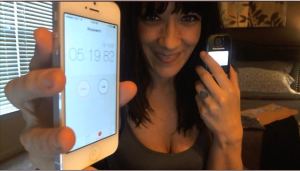 Here are a couple screenshots from the video I also filmed – capturing the beginning and the moment on the timer as he is cumming! He lasted from start (placing his hands on her ass) to finish –
5 minutes 27 seconds!
I also make J pay me for the video I film – he loves reliving the humiliation I put him through!
Just a couple nights ago, J was able to get 2 escorts to actually cater to his fetish of being a preemie with a big dick and humiliate him – sadly I was not able to pick up the sound all that well to share it.
What went down was – the two girls showed up at his hotel room (I was already on the line listening in), immediately the one girl ordered J to get on his knees and kiss both their asses (since we all know J has an ass fetish) he then was told to enter the one from behind as she hiked up her skirt saying "Fuck Me!" (which J later tells me when he heard that, it took him over the edge) J entered her and as he was pumping away he quickly slows down, the other girl, (who basically was instructing the whole time) says "he stopped pumping, he's gonna cum already!" and sure enough, J blew his pathetic load in…
1 min 05 secs!
Got kicked in the balls, called a LOSER & they both left!
I swear, it was less the 5 minutes from the moment those two girls knocked on his hotel room door, took their envelopes, humiliated him and left!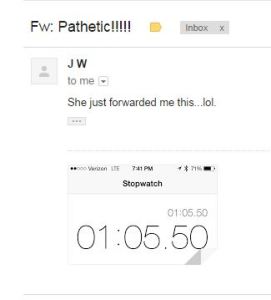 This is an email J forwarded me from the escort of the timer she took, sent just moments after she left his room – she called him PATHETIC!
Not like he hasn't heard that a million times!
So lame I tell you, this guy has a huge dick and can't last 5 minutes until he is grunting and moaning as he prematurely ejaculates his load from his big cock, which is deemed USELESS!
You know I could not do this post without sharing some of his star moments with his jizz plastered all over his loser face!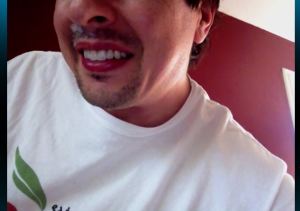 Here's two from our most recent cam session – check out that cum drip I captured as it enters his mouth and face, complete with a cum stash! LOL, what a loser!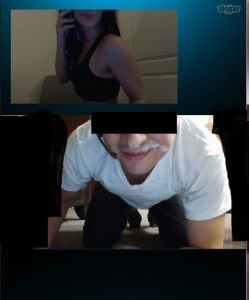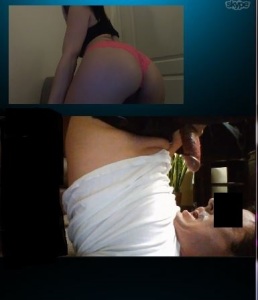 Lastly, this is one I pulled out from the "lost files"(taken one year ago on 11/26 just 1 day after my birthday! hint, hint) – Check out that facial and ASS!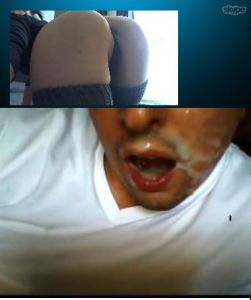 You're welcome J and you can thank me with another GiftRocket, cause I am awesome!!!!